Welcome to the wild heart of Africa, where your family's dreams of a remarkable safari adventure come true. As A Tent with a View Safari, we pride ourselves on offering you an extraordinary experience in Tanzania's most breathtaking national parks and reserves, including Serengeti, Ngorongoro, Tarangire, Saadani, and Nyerere. Join us on a journey of discovery, as we explore the wonders of a family safari in Tanzania, from the magnificent wildlife to the thrilling activities and exceptional lodges that make this adventure truly unforgettable.
Exploring Tanzania's Eclectic Wildlife
Tanzania is renowned for its diverse and abundant wildlife, making it an ideal destination for a family safari. At A Tent with a View Safari, we operate in some of the most iconic parks and reserves, each with its unique charm: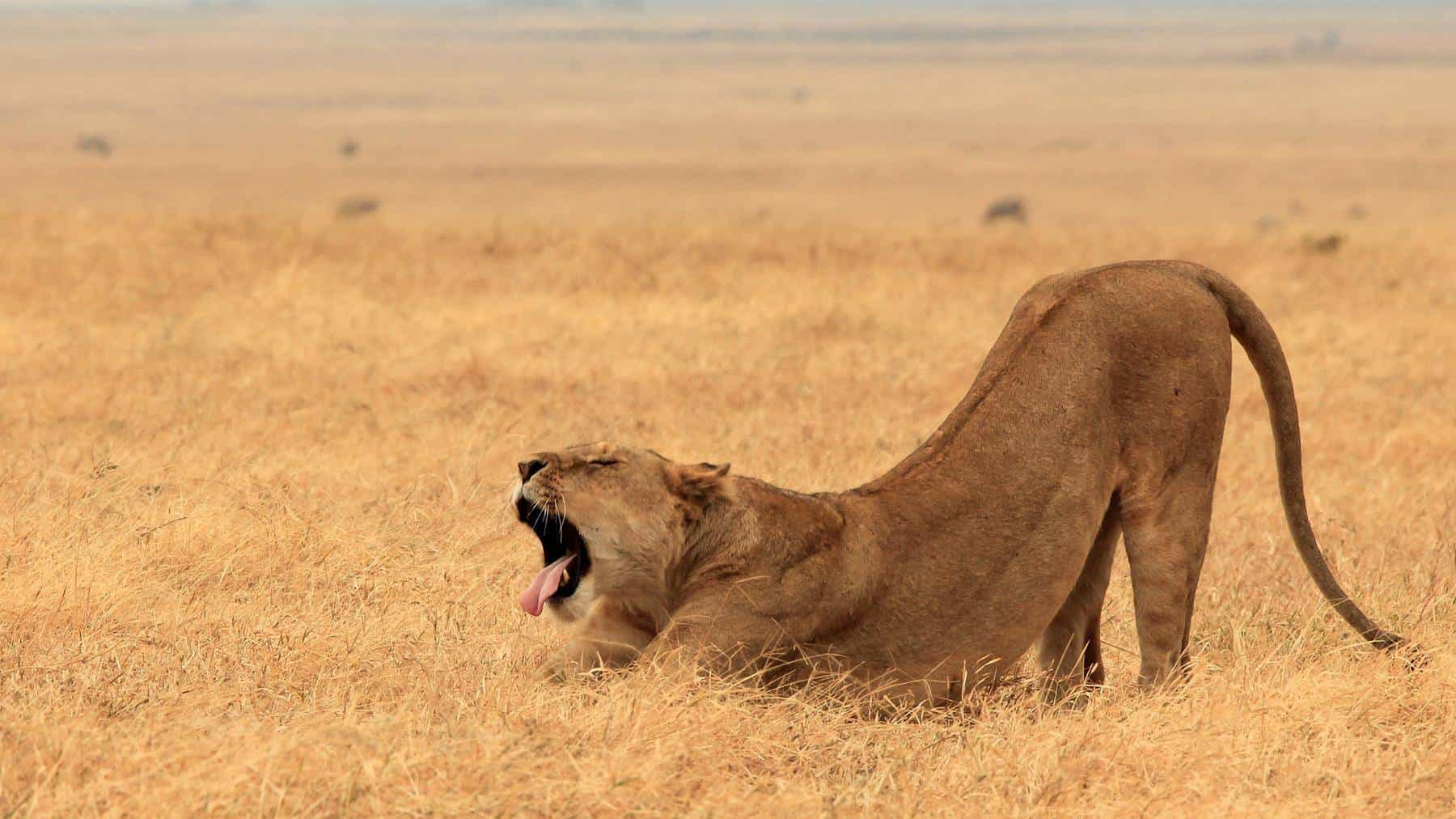 1. Serengeti national Park
Our flagship destination, the Serengeti, is famous for its sprawling savannahs, where you can witness the Great Migration in all its glory. Imagine your family's delight as you spot the Big Five and more.
The Serengeti, spanning over 14,750 square kilometers, is home to an astonishing variety of wildlife. During your visit, it's likely to encounter a variety of wildlife, including lions, elephants, buffalos, leopards, as well as cheetahs, zebras, giraffes, hippos, and a wide array of bird species.
The Great Migration is a spectacle like no other. Over two million wildebeest and zebras traverse the Serengeti in search of greener pastures. Witnessing this migration is an unforgettable experience for the whole family.
2. Ngorongoro conservation Area
The Ngorongoro Crater, designated as a UNESCO World Heritage Site, stands as a remarkable wildlife sanctuary teeming with a rich diversity of animals, including the elusive rhinos and graceful flamingos.
This colossal natural wonder reigns as the largest unbroken volcanic caldera globally, spanning over 260 square kilometers of awe-inspiring terrain. Within its confines, you'll encounter a captivating array of wildlife, rendering it an unmissable destination for fervent wildlife enthusiasts. Keep your eyes peeled for the imposing herds of wildebeest, zebras, and various antelope species.
A particularly extraordinary highlight is the chance to witness rhinos in their native habitat, an increasingly rare spectacle on the African continent due to the tragic effects of poaching. Moreover, the crater's soda lake offers a haven for flamingos, with thousands of these elegant birds creating a breathtaking pink tableau. However, do keep in mind that during the peak season, the Ngorongoro Crater can get quite bustling, so we recommend considering a maximum one-day visit to make the most of your experience.
3. Tarangire National Park
Tarangire, a hidden gem renowned for its vast elephant herds and enchanting baobab trees, beckons as an idyllic retreat for avid photographers and families alike.
Encompassing an expansive area of approximately 2,600 square kilometers, Tarangire stands as the cherished home of some of Tanzania's most substantial elephant herds. Witnessing these gentle giants in their natural realm is a heartwarming encounter that transcends generations.
In addition to its remarkable elephant population, Tarangire boasts a remarkable spectrum of wildlife, featuring majestic lions, elusive leopards, swift cheetahs, graceful giraffes, zebras, and a multitude of captivating antelope species. The park's iconic baobab trees, often whimsically referred to as "upside-down trees," form an ethereal backdrop for your safari escapades.
However, it's worth noting that Tarangire truly shines during the dry season, making it the prime time for your visit to revel in the splendor of this remarkable sanctuary.
4. Saadani national Park
Saadani National Park offers a distinctive blend of untamed wilderness and serene coastline, where you can witness remarkable wildlife against the backdrop of the pristine Indian Ocean shores. This coastal gem, Tanzania's only national park by the sea, beckons as a unique destination for families in search of both exhilarating wildlife encounters and tranquil beach getaways. Encompassing an expansive area of approximately 1,100 square kilometers, Saadani caters to a wide spectrum of interests.
Embark on captivating game drives through Saadani, where you can marvel at the sight of majestic lions, elusive leopards, grand elephants, formidable buffalos, and graceful giraffes, along with a symphony of diverse bird species gracing the skies. The park's estuaries and lush mangrove forests also host the enigmatic presence of hippos and crocodiles, adding to the rich tapestry of wildlife experiences.
But Saadani's allure doesn't end with its terrestrial wonders. It boasts the distinction of being Tanzania's only national park that extends into the Indian Ocean, encompassing a vibrant marine ecosystem. Whether you're a fan of snorkeling or simply relishing the serene beauty of the ocean, the marine park within Saadani offers an enticing aquatic realm to explore.
What makes Saadani even more enticing is that it's a year-round destination (except April and May), with each season offering its unique charm. Whether you visit during the dry season, when wildlife congregates around water sources, or in the wet season, when the landscape transforms into a lush green oasis, Saadani promises a memorable experience at any time of the year. This versatility sets it apart as a truly exceptional destination that caters to all tastes and preferences.
5. Nyerere National Park (Selous Game Reserve)
Previously known as the Selous Game Reserve, Nyerere National Park stands as a rugged and untamed sanctuary brimming with a rich tapestry of wildlife, notably including the captivating African wild dog.
Encompassing an astonishing expanse of 50,000 square kilometers, Nyerere reigns as one of the most extensive protected areas on the African continent. It serves as a haven of wilderness where you can embrace genuine solitude and submerge yourself in the wonders of the natural world.
Within the park's borders resides a staggering diversity of wildlife, including the majestic presence of elephants, formidable buffalos, regal lions, elusive leopards, the river-dwelling hippos, and the ancient reptilian guardians of the waterways, the crocodiles. Notably, Nyerere also serves as a stronghold for the endangered African wild dog, offering a truly unique opportunity to witness these charismatic predators in their unspoiled native habitat.
For an even deeper immersion into Nyerere's enchanting realm, don't miss the chance to embark on a mesmerizing boat safari on Lake Tagalala, an experience that promises to unveil even more of the park's secrets and hidden treasures.
The Safari Experience: Tailored for Families
At A Tent with a View Safari, we understand that a family safari requires special attention. Here's how we ensure your family has a seamless and enriching experience:
6. Expert Guides
Our experienced guides excel not only in their wildlife expertise but also in captivating the interest of families. They skillfully entertain the youngsters with captivating facts and enthralling stories.
Driven by an unwavering passion for wildlife and conservation, our guides possess the unique talent of conveying their enthusiasm to guests of all generations. Every game drive is transformed into an enriching educational journey, as they generously share their profound insights into animal behaviour, adept tracking techniques, and the park's distinctive ecosystems.
7. Game Drives
Embark on thrilling game drives with our guides, who will take you deep into the wilderness, ensuring that every member of the family has a front-row seat to Africa's incredible wildlife.
Game drives are the cornerstone of any safari adventure, and we make sure they are tailored to your family's preferences. Whether you're interested in tracking down the Big Five or focusing on birdwatching and photography, our guides will customize each drive to your interests.
8. Bush Walks
For those seeking a more immersive experience, our guided bush walks provide an opportunity to discover the finer details of the savannah, from animal tracks to indigenous flora.
Walking safaris offer a unique perspective on the African wilderness, allowing you to get up close to the smaller creatures and learn about the intricate relationships within the ecosystem. Our guides are experts in identifying animal tracks, plants with medicinal properties, and the fascinating stories of survival in the bush.
9. Hot Air Balloon Safaris
Take your adventure to new heights with a hot air balloon safari. Drift above the Serengeti at sunrise and witness the magical landscape and its inhabitants from a unique perspective.
A hot air balloon safari is a breathtaking way to experience the vastness and beauty of the African landscape. As you soar above the savannah, you'll have a bird's-eye view of wildlife congregations, landscapes dotted with acacia trees, and the changing hues of the sky as the sun rises. It's an unparalleled opportunity for family bonding and creating unforgettable memories.
Comfortable and Family-Friendly Accommodations
Rest and relaxation are essential after a day of exhilarating activities. At A Tent with a View Safari, we offer a variety of accommodations designed to cater to families:
10. Safari Lodges
Our safari lodges are well-appointed with spacious family rooms, child-friendly menus, and swimming pools where your family can unwind and cool off.
Our lodges provide a comfortable and welcoming retreat after your adventures in the wild. Family rooms are designed with your comfort in mind, and you can relax on the terrace while enjoying stunning views of the surrounding landscapes. The swimming pools are a hit with kids and adults alike, offering a refreshing break between safari activities.
11. Tented Camps
Experience the romance of a tented camp without compromising on comfort. Our camps provide an authentic bush experience, complete with modern amenities.
Staying in a tented camp allows your family to connect with nature while enjoying the comforts of home. The spacious tents are elegantly furnished, and en-suite bathrooms provide convenience and privacy. You'll fall asleep to the sounds of the African night, with the knowledge that you're surrounded by the security of the camp.
Embracing Local Culture
A Tent with a View Safari believes in promoting cultural understanding and community engagement:


12. Maasai Village Visits
Visit a Maasai village and immerse your family in the rich culture and traditions of the Maasai people. Witness traditional dances, learn about their crafts, and participate in their daily activities.
Engaging with local communities is an essential part of our safari experience. It provides a unique opportunity for your family to connect with Tanzanian culture and gain insights into the traditional way of life. Maasai village visits are a chance to interact with local families, witness their traditional dances, and learn about their craftsmanship, all while supporting sustainable tourism initiatives.
Prioritizing Safety and Conservation
Your family's safety is our top priority, and we are committed to protecting Tanzania's remarkable natural heritage:
13. Safety Measures
We adhere to strict safety protocols, ensuring that your family can enjoy wildlife encounters with peace of mind. Our guides are trained to handle various situations, ensuring your safety at all times.
Safety is non-negotiable when it comes to safari adventures, especially when children are involved. Our guides are not only experienced in wildlife tracking but also in ensuring the safety of our guests. We provide comprehensive safety briefings before each activity and take every precaution to minimize risks during your safari.
14. Conservation Initiatives
Support our efforts to conserve Tanzania's pristine wilderness. A Tent with a View Safari actively contributes to wildlife conservation and community development projects, and we encourage our guests to get involved.
We believe in the importance of responsible tourism and ensuring that future generations can enjoy the same natural wonders that we do today. Our commitment to conservation extends to supporting initiatives that protect wildlife and their habitats, as well as collaborating with local communities to foster sustainable development.
Conclusion
A family safari in Tanzania with A Tent with a View Safari is more than just a vacation; it's an opportunity to connect with nature, create lasting memories, and gain a deeper appreciation for the wonders of the African wilderness. It's an adventure that transcends generations and fosters a love for the natural world.
So, pack your bags, prepare for an incredible journey, and come experience the magic of Tanzania's national parks and reserves with A Tent with a View Safari. Discover the enchanting landscapes, the rich wildlife, and the warm hospitality that make Tanzania an unforgettable destination for families seeking adventure and connection.
FAQs
How can I book a family safari with A Tent with a View Safari?
Booking is easy. Simply visit our website or get in touch with our friendly team, and we'll assist you in planning your dream safari.
Are there age restrictions for children on your safaris?
We welcome families of all sizes and ages. Our guides are skilled at tailoring the experience to suit the needs and interests of each family member.
What's the best time of year for a family safari in Tanzania?
The most suitable times for a family visit depend on your preferences. Tanzania offers excellent opportunities for family adventures throughout the year. However, it's advisable to avoid planning your trip in April and May due to heavy rains, which can make roads challenging to navigate.
How do you contribute to wildlife conservation in Tanzania?
We are deeply committed to actively backing a range of conservation initiatives and working in close partnership with local communities to safeguard the environment and its precious inhabitants.
To learn more about our efforts in this regard, we invite you to explore additional information available in our lodges.
Can you accommodate dietary restrictions and preferences for families?
Yes, we can. We understand that dietary requirements vary, and our lodges and camps can cater to your family's specific needs.
Please check some of our family itinerary ideas